Doing Good Together™ Family Service Fair Manual with Online Toolkit
Bring your community together to make a difference!
Using our step-by-step instructions, printables, and online resources, it's now easier than ever to host your own fair.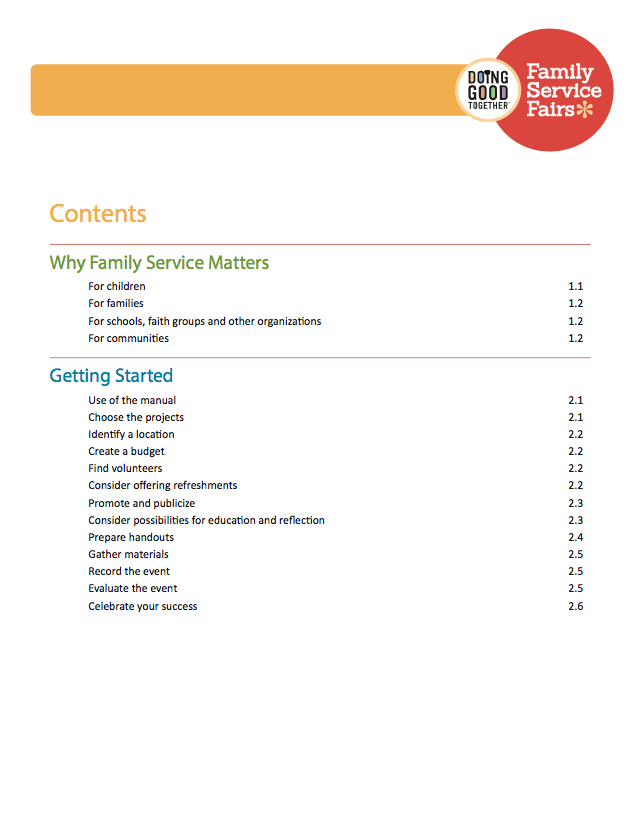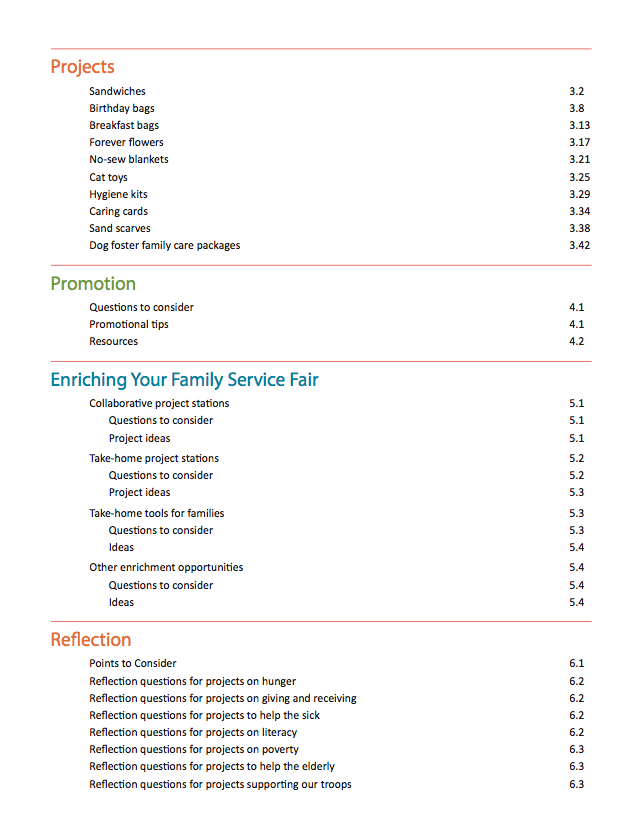 For years we've provided assistance to various organizations who wanted to host a Family Service Fair in the Twin Cities of Minneapolis-St. Paul and beyond. Now we've made it easy for you and your organization to host your own successful event -- using our unique DIY-style manual and online toolkit.
Since DGT™ created the Family Service Fair concept nine years ago, it's only natural we'd be able to anticipate your questions and provide the answers you need in this comprehensive 78-page PDF manual.
Purchase of our manual and online toolkit also gains you access to our DGT Family Service Fair coordinator Facebook forum - an interactive online meeting space for DGT Family Service Fair coordinators to pose questions, share successes and inspire each other with new ideas!
Our PDF manual features tips on:
managing your budget

recruiting volunteers

effective event promotion

creating reflection resources

integrating creative enrichment opportunities

selecting and organizing appropriate service projects
The manual is also filled with live links to both nonprofit agencies and shopping resources for your event supplies.
The online toolkit included in your purchase features access to thoughtfully designed templates and customizable documents, such as blank station and instruction signs; a customizable Resource Booklet template; and a Passport to Giving template.
Our goal is to make the experience as easy, efficient and enjoyable as possible for you!
Pricing
We know nonprofit organizations have limited budgets, and that's why we're offering this wide assortment of materials and resources -- valued at $125 -- for just $74.99! Whether you host just one event, or make Doing Good Together™ Family Service Fairs an annual tradition, we trust you'll agree, this manual with its online toolkit offers a unique value that ensures we can share kindness one event at a time.

Turn-key event hosting by our experienced DGT™ staff is also available. Contact us today to learn more!