How would you feel if you had to rely on a stranger to provide your lunch every day?
How does it feel when you are hungry and you have to wait to eat?

What are ways we could help those who are hungry?

What do you think would be the hardest part of not having a home?

If you did not have a place to live, what things would be most important to you? Where would you sleep? How would you stay clean?

What things are you grateful for? Are these things you need to live or things that are simply nice to have?
Click here for our complete list of reflection guides.
Maddi's Fridge by Lois Brandt
This book is both a joyful story of friendship and an emotional tale of hidden need. Children will be inspired to learn more – and do more – about local issues of hunger after hearing Sofia's desire to help her friend.
Other DGT Favorites
Uncle Willie and the Soup Kitchen by DyAnn DiSalvo-Ryan
A young boy who is afraid of homeless people gains a new perspective when he helps his uncle work at the soup kitchen.
The Lady in the Box by Ann McGovern
It is wintertime in the city and freezing cold, but not everyone is inside and warm. Ben and his sister Lizzie know that there is a lady who lives outside in a box over a warm air vent. The children worry about the kind-looking lady, and begin sneaking food and clothes out of their apartment for her. Gently told- and not overly heavy - and powerfully illustrated in rich hues, The Lady in the Box deals candidly with the issue of homelessness.
Lily and the Paper Man by Rebecca Upjohn
Lily becomes worried when she sees that the paper man is not properly dressed for the cold. Then she comes up with an idea.
Fly Away Home by Eve Bunting
This heart-wrenching yet hopeful book follows a boy and his father through their daily routines as they shelter in an airport, obviously before airline security become so strict. This book perfectly presents the heartbreak of being a homeless child in a non-threatening, non-frightening way.
One Potato, Two Potato by Cynthia DeFelice
For a more whimsical approach to the issues of hunger and sharing, this folktale will entertain and enlighten any audience. It's a variation on the theme of a magic pot, featuring a community pulling together. It's a new favorite.
Great Joy by Kate DiCamillo
This is the sweet simple tale of a kind organ grinder, his monkey, and the little girl who worries over whether they has a place to go in the storm.
Sam and the Lucky Money by Karen Chinn
A charming story about a boy who gets "lucky money" for his birthday and ventures into Chinatown to look for the best way to spend it.
A Shelter in Our Car by Monica Gunning
When Zettie and her mother move from Jamaica to the United States, they have to live in their car. Despite their dire situation, Zettie's mother's strength and love make the situation bearable.
The Teddy Bear by David McPhail
When a child loses his teddy bear, a homeless man adopts it, showing the child how much he really has.
Those Shoes by Maribeth Boelts
Jeremy wants a pair of shoes just like everyone else has, but according to his grandmother, he must learn to separate his needs from his wants.
Tight Times by Barbara Shook Hazen
We all can relate to this tale of a boy who just wants a puppy of his own. Through his eyes, we watch the parents struggling with hard times, and better understand the stress families experience when money is tight.
Last Stop on Market Street by Matt de la Peña
Join CJ and his grandmother on their Sunday bus ride across town. Children will feel for CJ as he notices the differences between a cleaner part of town where other boys his age are playing on their iPods, and the dirtier part of town he's headed too. Parents will find inspiration in CJ's grandmother's kind responses to CJ's observations. And your whole family will be ready to start a new service project when you reach the heart-warming conclusion.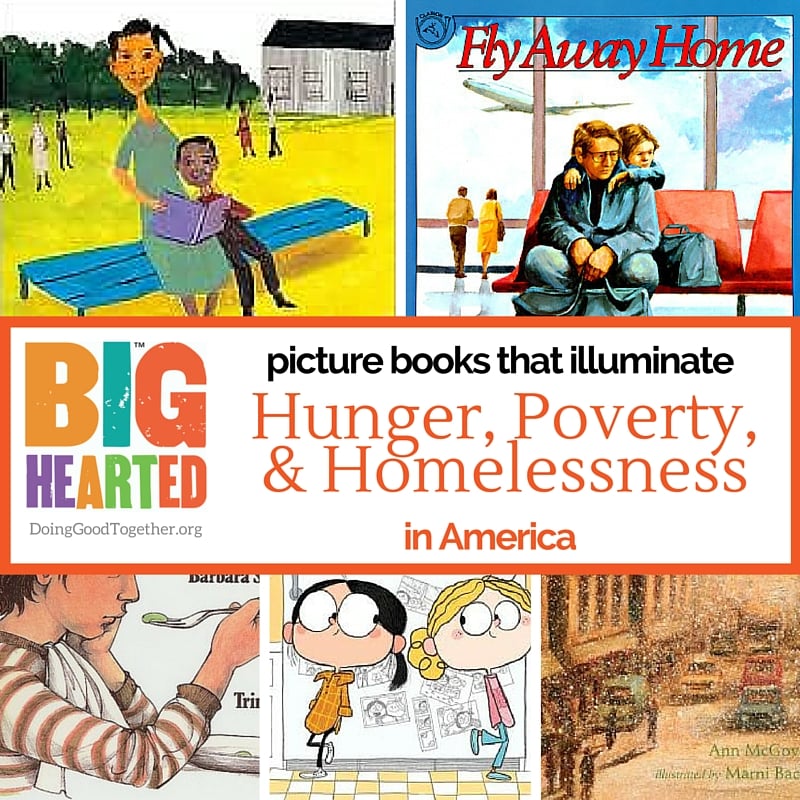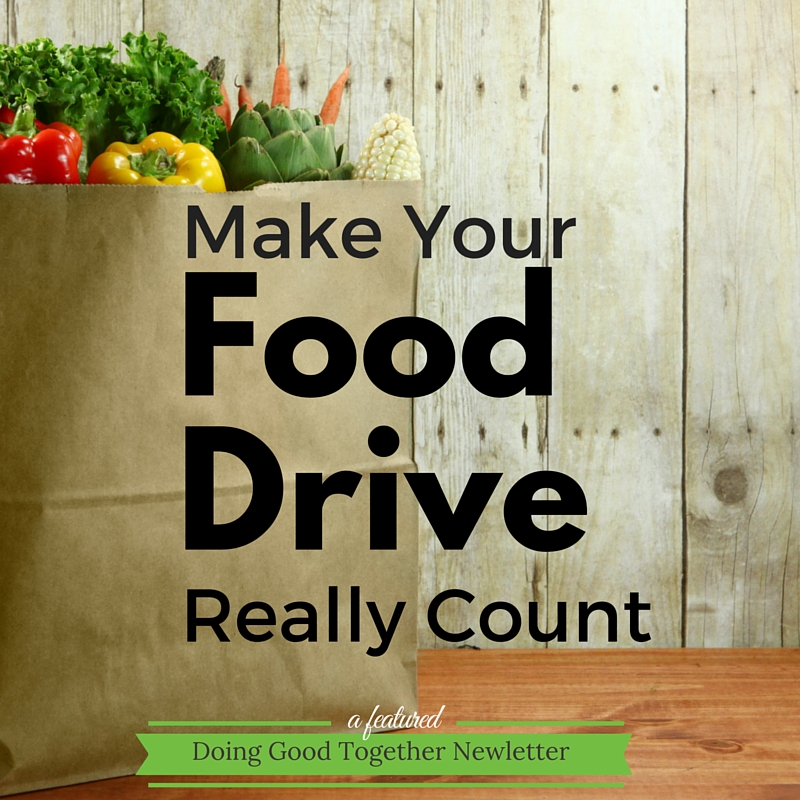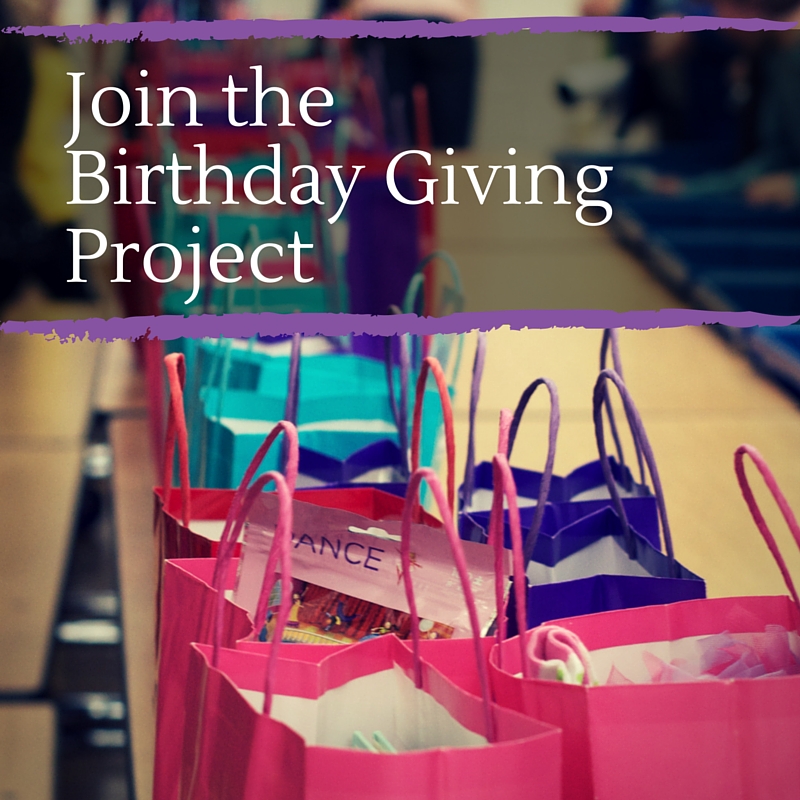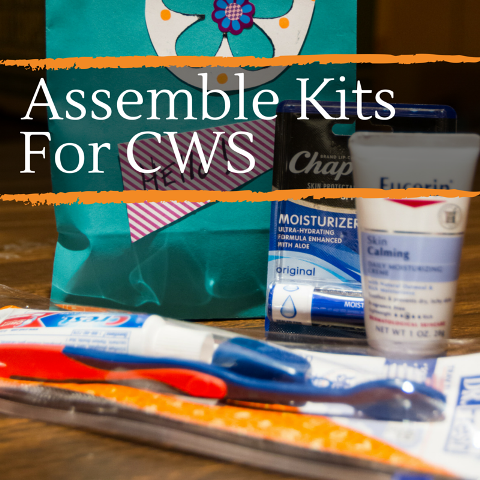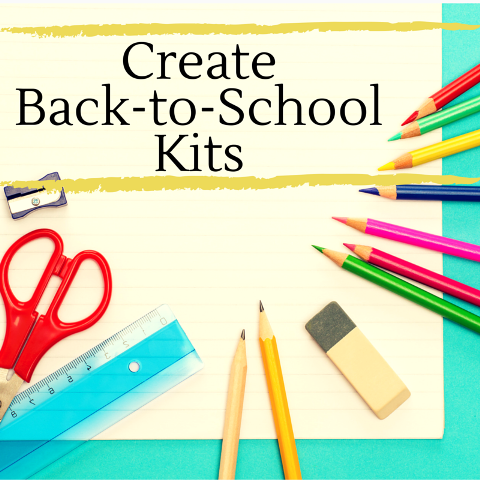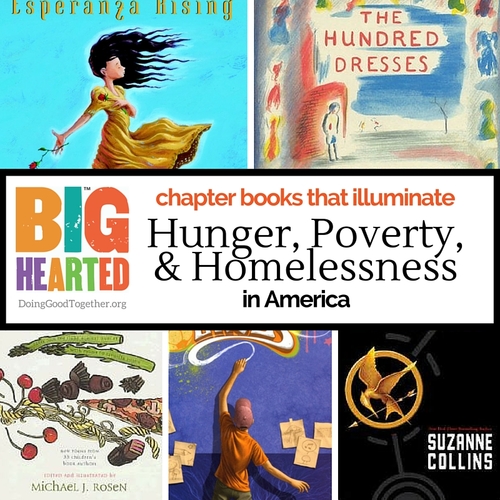 Want to take the lessons further on this important subject?
Order the DGT™ Kindness Curriculum which uses stories and discussions to empower kids to help!
Disclaimer: Doing Good Together™ is a participant in the Amazon Services LLC Associates Program, an affiliate advertising program designed to provide a means for sites to earn advertising fees by advertising and linking to Amazon.com. The recommendations we offer are based solely on our mission to empower parents to raise children who care and contribute.